Readings:
This commemoration is a 2018 addition to A Great Cloud of Witnesses.
Return to Lectionary Home Page
Webmaster: Charles Wohlers
Last updated: 26 Jan. 2019

JOHN CLIMACUS
MONASTIC AND THEOLOGIAN, 649?
Saint John Climacus, also known as John of the Ladder, John Scholasticus and John Sinaites, was a 6th-7th-century Christian monk at the monastery on Mount Sinai.
There is almost no information about John's life. Of John's literary output we know only the Κλϊμαξ or Ladder of Divine Ascent, composed in the early seventh century, and a shorter work To the Pastor, most likely a sort of appendix to the Ladder.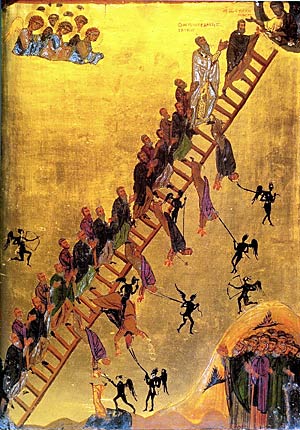 The Ladder describes how to raise one's soul and body to God through the acquisition of ascetic virtues. Climacus uses the analogy of Jacob's Ladder as the framework for his spiritual teaching. Each chapter is referred to as a "step", and deals with a separate spiritual subject. The first seven Steps concern general virtues necessary for the ascetic life, while the next nineteen (Steps 8–26) give instruction on overcoming vices and building their corresponding virtues. The final four Steps concern the higher virtues toward which the ascetic life aims. The final rung of the ladder—beyond prayer, stillness, and even dispassion—is love. Originally written simply for the monks of a neighboring monastery, the Ladder swiftly became one of the most widely read and much-beloved books of Byzantine spirituality.
An icon known by the same title, Ladder of Divine Ascent, depicts a ladder extending from earth to heaven (cf. Genesis 28:12) Several monks are depicted climbing a ladder; at the top is Jesus, prepared to receive them into Heaven. Also shown are angels helping the climbers, and demons attempting to shoot with arrows or drag down the climbers, no matter how high up the ladder they may be. Most versions of the icon show at least one person falling. Often, in the lower right corner St. John Climacus himself is shown, gesturing towards the ladder, with rows of monastics behind him.
more at Wikipedia