Readings:
This commemoration is a 2018 addition to A Great Cloud of Witnesses
Return to Lectionary Home Page
Webmaster: Charles Wohlers
Last updated: 3 November 2018

AMELIA JENKS BLOOMER
SOCIAL REFORMER, 30 DEC 1894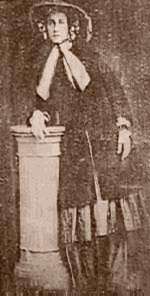 Amelia Jenks was born in New York in 1818, reared as a Presbyterian, and as a young woman became an activist for the anti-slavery, anti-alcohol, and women's votes movements. One of her concerns has made her name a part of the language. In her day, women's fashions encouraged tightly laced waists, involving severe health problems. (The fashions were denounced in 1728 by William Law--see 9 April.) The fashion also called for skirts trailing the ground, an arrangement that made it difficult to keep the skirts reasonably clean, especially since the streets were full of horses. Mrs. Bloomer designed a women's costume featuring what are known as Turkish pants, or harem pants (remember the television show I Dream of Jeannie), loose baggy trousers gathered into tight bands at the ankles and waist. Over these she wore a mid-calf-length skirt. It seems a thoroughly modest garb, but it excited indignation and ridicule. (At least well into the 1940's, women's underpants, and women's baggy outer pants worn for athletics, were known as "bloomers.")
Mrs. Bloomer and her husband eventually settled in Council Bluffs, Iowa, where she worked to promote churches, schools, libraries, and progressive and reform movements. On one occasion she said:
"The same Power that brought the slave out of bondage will, in His own good time and way, bring about the emancipation of women, and make her the equal in power and dominion that she was in the beginning."
by James Kiefer