Readings:
This commemoration is a 2018 addition to A Great Cloud of Witnesses.
Return to Lectionary Home Page
Webmaster: Charles Wohlers
Last updated: 26 October 2019

RUTH ELAINE YOUNGER
FOUNDER OF THE COMMUNITY OF THE HOLY SPIRIT,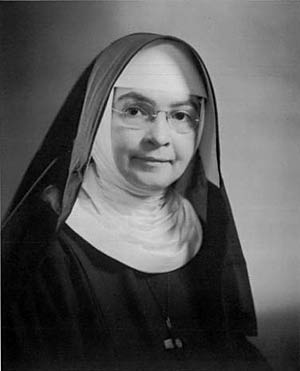 Ruth Elaine Younger, The third child of an interracial marriage, was born on Oct. 1, 1897, in New York City. Because of racial bias in the United States at that time, she entered the Canadian Sisterhood of St. John the Divine in Toronto and was Life Professed on Dec. 29, 1922.
She graduated from St. Hilda's College, University of Toronto, receiving her B.A. degree with honors in natural science. She obtained her teaching degree at the Ontario College of Education and taught for several years at the Qu'Appelle Diocesan College of Education and at the Bishop Bethune College in Oshawa. Upon her appointment as treasurer of St. John's Surgical Hospital, she returned to Toronto.
In 1949, Sister Ruth and Sister Edith Margaret, both of the Sisterhood of St. John the Divine, were granted a leave of absence by their Community to begin new work in New York City. On Feb. 2, 1950, they opened St. Hilda's School on Morningside Heights, with a class of eight preschool children. From the very beginning, the school encouraged and maintained a fully integrated faculty and student body. With Sister Ruth as Headmistress, the school flourished, expanding grade by grade, eventually offering co-educational academic training from nursery through grade 12 under the name St. Hilda's and St. Hugh's School. She served as Headmistress of St. Hilda's and St. Hugh's School until her retirement in 1985.
The Community of the Holy Spirit was formally instituted on Aug. 27, 1952, when the Sisters' vows were transferred from the Sisterhood of St. John the Divine. Sister Ruth was elected the Reverend Mother of the new Community, an office which she held until 1976.
She died on Dec. 22, 1986, after a two-month illness.