Readings:


This commemoration is a 2018 addition to A Great Cloud of Witnesses.
Return to Lectionary Home Page
Webmaster: Charles Wohlers
Last updated: 23 December 2018

KATE HARWOOD WALLER BARRETT
PHILATHROPIST AND SOCIAL REFORMER, 1925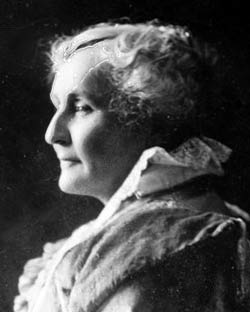 Kate Waller Barrett (January 24, 1857 – February 23, 1925), née Katherine Harwood Waller, was a prominent Virginia physician, humanitarian, philanthropist, sociologist and social reformer, best known for her leadership of the National Florence Crittenton Mission, which she founded in 1895 with Charles Nelson Crittenton. Her causes included helping the "outcast woman, the mistreated prisoner, those lacking in educational and social opportunity, the voteless woman, and the disabled war veteran."
Barrett was born at her family's historic estate, Clifton, in Falmouth, Virginia, on January 24, 1857. On July 19, 1876, she married Robert South Barrett (1851–1896), a young Episcopal priest fresh out of seminary, who had been recently assigned to the nearby Aquia Church.It was while traveling with and assisting her husband with his work that she first witnessed the social problems which would form the impetus for her life's work.
In particular, soon after Robert South Barrett, Jr., the first of their six children, was born in Richmond, Virginia, a young unmarried woman with her own child begged for help at their door. The Barretts provided the young woman with a meal and listened as she told of being deserted by a man who had promised marriage. Barrett recognized the similarities between herself and the young woman, and concluded that only luck separated her from the young woman in her home; one of them had fallen in love with a "good" man and one with a "bad" one. Furthermore, from her own experiences as a slaveholder and with Jim Crow laws, Barrett also realized how spirits could be broken by degradation. Profoundly moved by her new-found bond with this "fallen" woman, she vowed, "By the power of God that rules the Universe, I would spend my life trying to wipe out some of the inequalities that were meted out to my sisters who were so helpless to help themselves."
When Rev. Barrett was called to Atlanta in 1886, Katherine Barrett, with his encouragement, pursued a medical degree, while also establishing what came to be her first shelter for unwed mothers. The Women's Medical College of Georgia awarded Barrett an M.D. in 1892. Barrett never intended to practice as a physician, but wanted to bolster her credibility: "she recognized that the initials 'M.D.' behind her name gave weight to her viewpoints."
Rev. Barrett died in 1896, leaving his 39-year-old widow with six young children.
With Charles Nelson Crittenden, they founded the National Florence Crittenton Mission in 1895, with Crittenton as president and Barrett as vice president.
Barrett had a tremendous impact on the developing field of social work and on services for women and children.
Under her leadership, the NFCM became an established social service organization that provided a wide spectrum of services to women. The mission initiated activities that many now consider essential services for women and children. Florence Crittenton homes pioneered women-oriented policies in the areas of health care, employment for women, and children's rights. The organization campaigned for equality for women and for recognition of women's needs... Despite differences in class and race with most of their clients, FC volunteers tried to emphasize gender identity.... It would be a long time before a group of women had the resources to duplicate Crittenton efforts.*
Insisting that all mothers had something to say and a right to act, Barrett also successfully led large numbers of women to push the boundaries of what was acceptable for women to pursue. Historian Katherine Aiken finds Barrett's current relatively small profile illuminating. "One of the most prominent women of her time, Kate Waller Barrett is today a virtually unknown historical character."
— more from Wikipedia
* Aiken, Katherine G. (1998). Harnessing the Power of Motherhood: The National Florence Crittenton Mission, 1883–1925. Knoxville, Tennessee: University of Tennessee Press. p. 209.