Readings:
[Common of a Pastor]
[Of the Holy Spirit]
[For Reconciliation and Forgiveness]
[For Peace]

PRAYER (traditional language)
Almighty God who hast reconciled the world unto thyself through Christ: Entrust to thy church the ministry of reconciliation as thou didst to thy servant Hiram Hisanori Kano, and raise up ambassadors for Christ to proclaim thy love and peace wherever conflict and hatred divide; through Jesus Christ our Lord who liveth and reigneth with thee and the Holy Spirit, One God, now and forever. Amen.
PRAYER (contemporary language)
Almighty God who has reconciled the world to yourself through Christ: Entrust to your church the ministry of reconciliation as you did to your servant Hiram Hisanori Kano, and raise up ambassadors for Christ to proclaim your love and peace wherever conflict and hatred divide; through Jesus Christ our Lord who lives and reigns with you and the Holy Spirit, One God, now and forever. Amen.

This commemoration appears in A Great Cloud of Witnesses
Return to Lectionary Home Page
Webmaster: Charles Wohlers
Last updated: 24 Oct. 2018
HIRAM HISANORI KANO
PRIEST, 24 OCT. 1988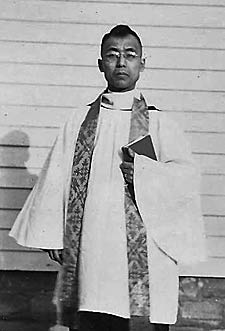 The Rev. Hiram Hisanori Kano (1889-1986), an Episcopal priest known by some as the "Saint of Nebraska and Colorado," was an agricultural missionary among Japanese Americans in western Nebraska and a pastor to American soldiers imprisoned for having been AWOL while he himself was a prisoner during the Japanese internment of WWII. Churches in the Dioceses of Nebraska and Colorado observe a Saint's day for Fr. Kano annually.
Fr. Kano, who was from a well-known family in Tokyo, received a Master's degree in agriculture from the University of Nebraska. In the early 1920's, Bishop George Allen Beecher of the Missionary District of Western Nebraska discerned in farmer and educator Kano, the evangelist he was seeking to call Nebraska's Japanese to be God's people. A lay missionary first, Kano would become Deacon Kano in 1928 and Fr. Kano in 1936. By the spring of 1934 there were 250 baptized and 50 confirmed through Fr. Kano's ministry.
On the morning of December 7, 1941, Fr. Kano had just celebrated the Eucharist at Episcopal Church of Our Savior in North Platte, Nebraska, 180 miles from his wife and children at their Scottsbluff home. On that morning he was arrested by the local police and not allowed to notify his family of his detention, but was sent to the district attorney in Omaha. He heard the terrible news of the bombing of Pearl Harbor and the declaration of war on Japan on the police car radio. Because his family in Japan had connections with the Japanese government, and he was so personally influential with the Japanese Americans as both a minister and a teacher of agriculture, he was rated "Class A – the most potentially dangerous of Japanese Americans." He was the only Japanese of the 5,000 living in Nebraska, Colorado, and Wyoming to receive this rating and to be interned.
Despite his own defense and pleas from his bishop who knew Fr. Kano to be a dedicated Christian and loyal to his adopted country, he spent the next two years in internment camps. He spent time in four different states, always working to help the other internees and those imprisoned AWOL soldiers. He served as dean of a school for the internees and taught many courses in Agricultural Study and English, and he preached the gospel.
After the war, it was determined that Fr. Kano should not return to his ministry in Nebraska. He had been detained longer than most, and it was feared that folks in Nebraska would be unaware of his loyalty to the U.S. and only remember inflammatory headlines such as, "Alien Pastor Arrested by FBI ... Admits Writing to Tokyo." He was sent to an Episcopal Seminary in Wisconsin where he earned both Bachelors and Masters of Divinity degrees. He returned to Nebraska and his ministry in 1946.
Fr. Kano and Mrs. Kano earned their citizenship soon after the law permitted it in 1952, and then began teaching citizenship classes so that between 1953 and 1955, nearly 100 percent of the Nebraska Japanese became citizens. Forty years after WWII, when the U.S. government acknowledged that Japanese Americans had been wronged by the internments and offered to pay reparations, Fr. Kano told his bishop, "I don't want the money. God just used that as another opportunity for me to preach the gospel."
— From General Convention 2012