Readings:
This commemoration is a 2018 addition to A Great Cloud of witnesses.
Return to Lectionary Home Page
Webmaster: Charles Wohlers
Last updated: 19 Jan. 2019

GERTRUDE OF NIVELLES
MONASTIC, 659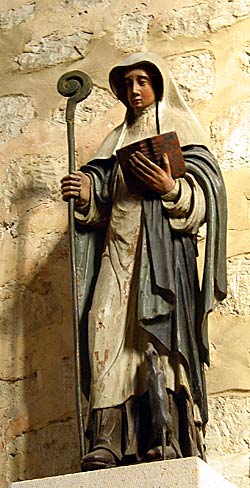 Gertrude of Nivelles, O.S.B. (c. 628 – March 17, 659) was a 7th-century abbess who, with her mother Itta, founded the Abbey of Nivelles located in present-day Belgium.
Gertrude's father was Pepin of Landen (Pippin the Elder), a nobleman from east Francia. Pippin became mayor of the palace, and his family (including young Gertrude) moved with the king's court.
Gertrude's biography begins with her father hosting a banquet when Gertrude was ten years old. At this feast, the King asked Gertrude if she would like to marry the "son of a duke of the Austrasians.... for the sake of his worldly ambition and mutual alliance." Gertrude declined and "lost her temper and flatly rejected him with an oath, saying that she would have neither him nor any earthly spouse but Christ the Lord."
Gertrude's Vita describes how Bishop Amand came to Itta's house, "preaching the word of God. At the Lord's bidding, he asked whether she would build a monastery for herself and Christ's handmaid, Gertrude." Itta founded Nivelles, a double monastery, one for men, the other for women. However, after they entered the religious life, Gertrude and her mother suffered, "no small opposition" from the royal family.
Upon Itta's death at about the age of 60 in the year 652, twelve years after the death of her husband Pippin, Gertrude took over the monastery. At this time, Gertrude took the "whole burden of governing upon herself alone," placing affairs of the family in the hand of "good and faithful administrators from the brothers." The Vita states that in Gertrude was "an intelligent young woman, scholarly and charitable, devoting herself to the sick, elderly, and poor," and as knowing much of the scripture by memory. Gertrude also memorized passages and books on divine law, and she "openly disclosed the hidden mysteries of allegory to her listeners." Her Vita describes Gertrude as building churches, and taking care of orphans, widows, captives, and pilgrims.
Upon becoming abbess, Gertrude "obtained through her envoys men of good reputation, relics of saints and holy books from Rome, and from regions across the sea, experienced men for the teaching of the divine law and to practice the chants for herself and her people."
Gertrude is portrayed as leading a devout life until her death. She is described as "exhausted by a life of charity, fasting and prayer" at the end of her short life. Gertrude's Vita describes her, after relinquishing her role as abbess, spending her time praying intensely and secretly wearing a hair shirt. Just before her death in 659, Gertrude instructed the nuns at Nivelles to bury her in an old veil left behind by a travelling pilgrimess and Gertrude's own hair shirt. She died in poverty, 17 March 659, at the age, we are told, of thirty-three years.
The legend of Gertrude's vision of the ocean voyage led her to be as well the patron saint of travelers. In memory of this event, medieval travelers drank a so-called "Sinte Geerts Minne" or "Gertrudenminte" before setting out on their journey. Her attention to the care of her garden led her assistance to be invoked by gardeners. The assignment of Gertrude as patron of cats and the designation of the cat as one of her attributes seems to date from the 1980s. It may come from her veneration as protector against rats and mice, which dates from the early 15th century during the Black Plague.
more at Wikipedia