Readings:
This commemoration is a 2018 addition to A Great Cloud of Witnesses
Return to Lectionary Home Page
Webmaster: Charles Wohlers
Last updated: 3 November 2018

ANGELA OF FELIGNO
MYSTIC, 1309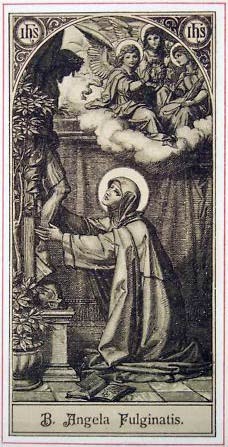 Angela of Foligno, (1248 – 4 January 1309) was an Italian Franciscan tertiary who became known as a mystic from her extensive writings about her mystical revelations. Due to the respect those writings engendered in the Catholic Church she became known as "Mistress of Theologians".
She was born into a wealthy family at Foligno, in Umbria. Married, perhaps at an early age, she had several children. Angela reports that she loved the world and its pleasures. Around the age of 40, she reportedly had a vision of St. Francis and recognized the emptiness of her life. From that time, she began to lead a life devoted to higher perfection. Three years later, Angela's mother died, followed, a few months later, by her husband and children. She then began to divest herself of her possessions and to live as a penitent. Angela joined the Third Order of St. Francis, probably in 1291.
Considered a "great medieval mystic," Angela is said to have received mystical revelations, which she dictated to a scribe in the late 13th century. These accounts are contained in a compilation of two works, usually published under the title Il Libro della Beata Angela da Foligno.
Between around 1296 and her death in early 1309, the fame of Angela's sanctity gathered around her a number of other tertiaries, both men and women, who strove under her direction to advance in holiness. Later she established at Foligno a community of other women tertiaries, who added to the Rule of the Third Order a commitment to a common life without, however, binding themselves to enclosure, so that they might devote their lives to works of charity.
more at Wikipedia